Grav Premium Coming Soon
Enhance Grav with premium plugins + themes + support the project
posted on 12/07/2020
11 mins
The Grav ecosystem continues to grow with new extensions being developed to ease everyday tasks and provide new functionality. Over the years, the Grav core team has released many free plugins that were either requested by community members or developed for our own or client needs. Also, there have been plugins that we had intended to develop and release as "pro" level plugins that we would charge for but just never got around to completing due to Grav release development, client work, or just real life continually getting in the way. Over the past year, we decided to take the time and focus on this effort and create something new.
⏰ Set your alarm! Grav Premium is being launched December 15th, 2020

What is Grav Premium?
We've taken new plugins that we have been developing, polished up some existing non-released plugins we have been using for clients, as well as creating a brand new powerful theme, and packing these up under the name Grav Premium.
Grav Premium, is not a "paid version of Grav"; instead, it's a collection of premium plugins and themes that enhance Grav and provide powerful new functionality. These plugins are commercial, they are licensed "per-site" and are fully integrated into Grav's existing package management (GPM), so installation and updates are as seamless as any other extension. Every Grav Premium product is developed and supported by the same team that built Grav via Trilby Media (the Business behind Grav), so you can expect top-notch solutions, focusing on functionality, performance, and reliability, just like Grav itself.
Why Grav Premium?
Open-source is hard. It's time-consuming, emotionally exhausting, but also hugely rewarding. We love developing solutions that empower other users to do amazing things. That is the reason why we develop open-source products in the first place.
It's a lot easier to develop a commercial product and sell it from the start. Open source is a huge commitment; you have to build a solid product, provide support, develop and nurture a community, and all on your own time. That time takes away from the time you would otherwise have available to earn a living or spend with your family, so it's a difficult balance to accomplish. What we're hoping for Grav Premium is that it will help ensure that equilibrium is maintained, and we can continue to develop and improve Grav and the open-source project encompassing it.
What's Available in Grav Premium?
At launch, we are going to have several plugins and a new theme available for purchase. We focused on what we thought would be the most useful products for our users and what was most obviously absent from the currently available extensions.
We have 3 products headlining Grav Premium: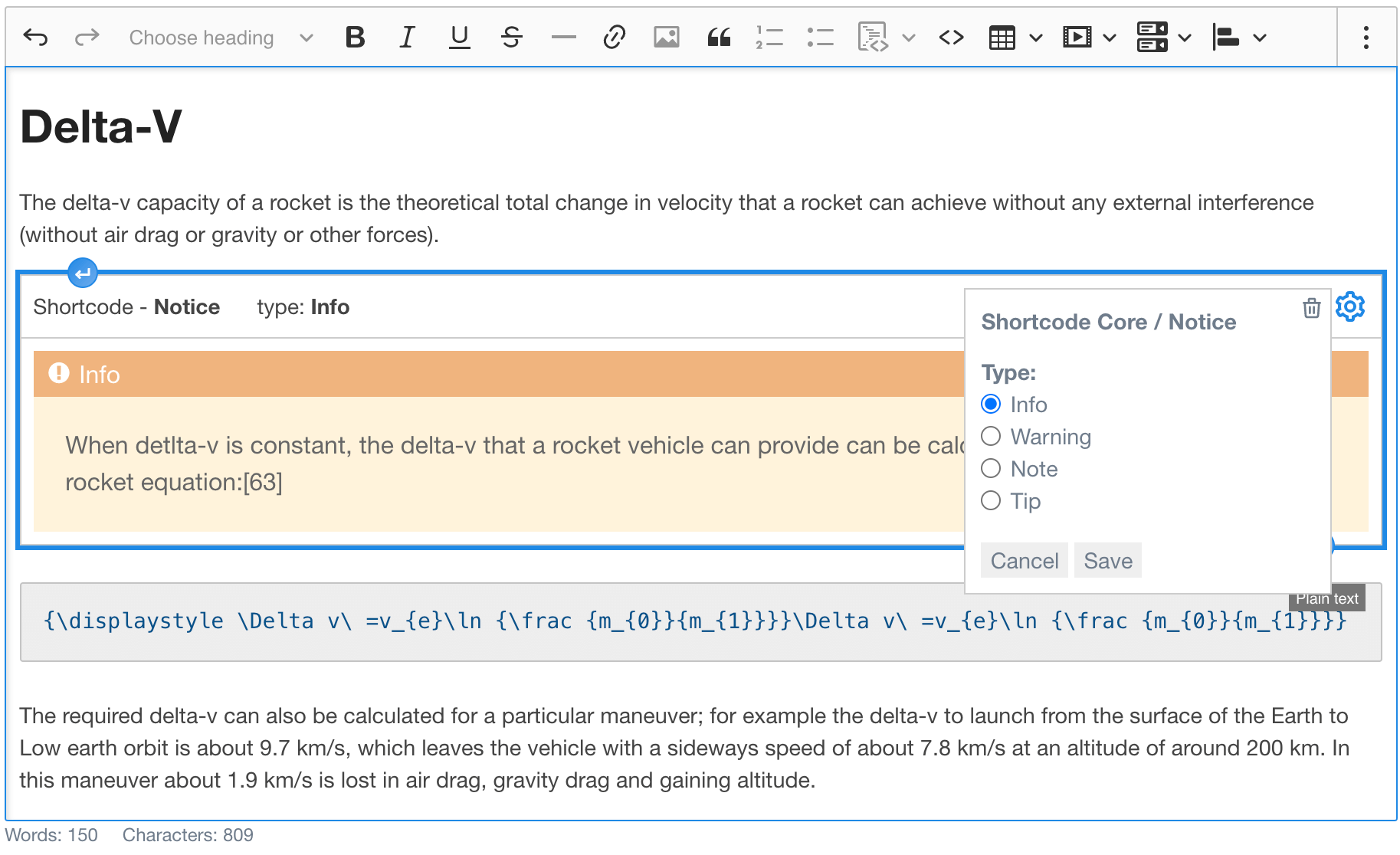 We started with an existing powerful WYSIWYM (What you see is what you mean) editor to provide an intuitive interface that everyone will be instantly familiar with and boosted it with a turbo and supercharger! Since day one, we've been asked for a more friendly WYSIWYG editor for Grav. However, we always said we wouldn't build one until we could make it properly, still reading and saving markdown formatted content, and fully integrated with Grav's existing functionality. This effort has been more challenging than expected, but the end result has also been more impressive than we ever imagined.
NextGen Editor is an all-new way to edit content in Grav. It looks like a regular WYSIWYG editor, but it's so much more. Your existing markdown content will work with it, and when you save your content, the editor converts everything to markdown. It dynamically supports Grav's media functionality, so you can quickly add a ?cropZoom=800,600 to an image URL, and it will show the resized image directly in the editor.
It has a custom Grav plugin architecture that allows other Grav plugins to directly integrate with the editor to provide true WYSIWYG functionality for plugins without any limitations on the editor itself. We have taken advantage of this by delivering sophisticated integration for Shortcode Core and Shortcode UI plugins, as well as PageInject and Youtube plugins. These serve as early examples of the kinds of plugins that will hugely benefit from tight integration with NextGen editor. We will continue to improve the experience and also integrate other plugins in the future.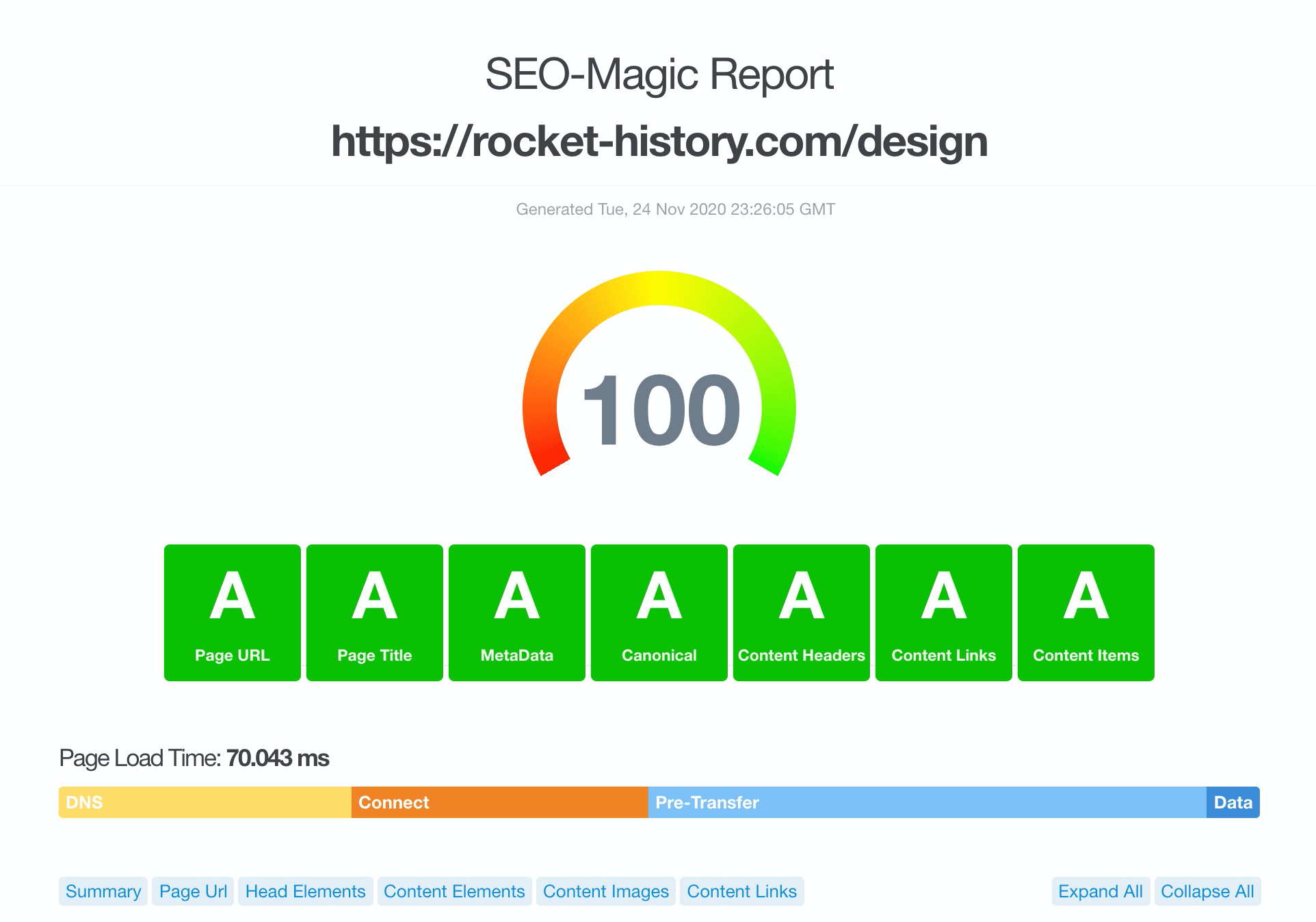 Have you ever wanted to get better SEO results without having to hire a shady SEO Marketing agency? Of course you have! SEO Magic builds on top of Grav's built-in SEO capabilities and gives you more control, provides automatically generated metadata, follows SEO best practices, and provides an SEO report for each page of your site.
SEO Magic provides powerful OpenGraph support and gives you full control over how your pages appear when embedded in other services like Facebook, Twitter, LinkedIn, Slack, Discord, etc. As part of your SEO Magic license, you get access to our custom WebShot Service that automatically takes a screenshot of the current page and can serve as part of the OpenGraph card. This provides a great 'thumbnail' view of your page and promotes interaction with your content. You can already see the WebShot service in action when you paste a getgrav.org or learn.getgrav.org URL into any service that supports OpenGraph embeds. Of course, as with all parts of SEO Magic, you have full control and can override this with your images if you chose.
Probably the most useful feature of SEO Magic is the per-page summary report. This gives you a simple score for your page's SEO based on best-practices. It does this by crawling your actual page, just like a search engine would do, and analyzing what it finds to give you an overview of your page. You can quickly review the report and promptly isolate SEO issues and resolve them quickly to ensure you are putting your best foot forward.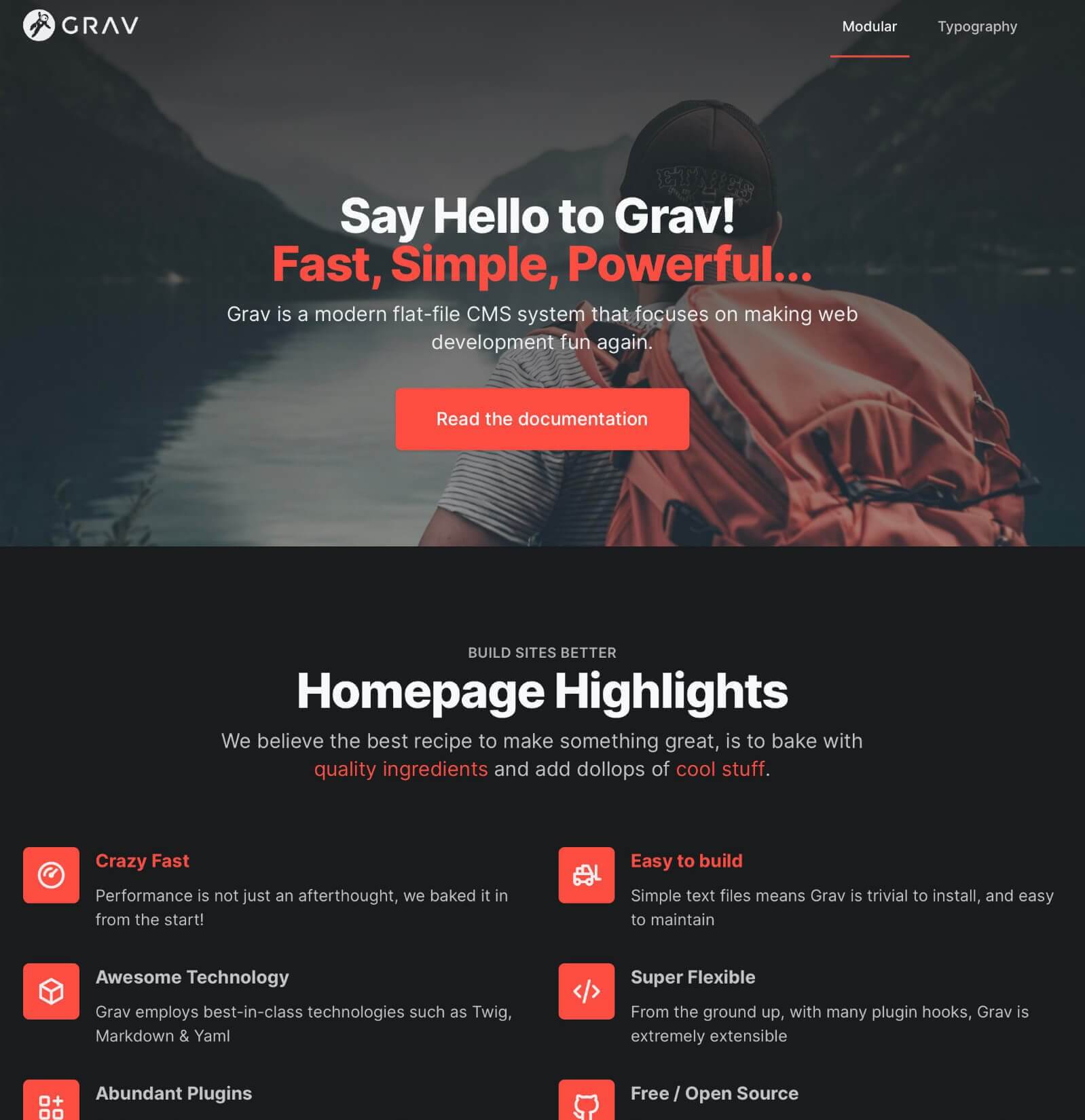 The Typhoon theme started life as a basic Tailwind CSS base theme that we used as a basis to develop custom themes for our client projects. This gradually became more powerful as we back-ported custom work from our client themes back into the base theme. This theme is the most powerful and flexible theme we've ever built. We have put a considerable amount of energy into it, ensuring it's a suitable platform to customize for our clients. With Typhoon's release, you can take advantage of our hard work and use this theme for your own custom projects.
If you have not heard of Tailwind CSS, then you are in for a treat. It's a different approach to CSS frameworks than perhaps you are used to. It is a utility-first CSS framework that gives you all the power and freedom of CSS styling directly in your markup (HTML, Twig, etc.) to allow rapid prototyping and simple templating for reusability that meshes perfectly with Grav's templating paradigm. Being powered by PostCSS, it takes advantage of powerful plugins to ensure your production CSS is optimized, fast, and tiny!
Typhoon also supports dropdown menus, split horizontal and vertical submenus, mobile navigation, light and dark modes, customized hero support, page-level overrides of almost any setting, various modular and page types to get you started. Basically, it's the perfect base for building any modern site, and you will absolutely love it!
Typhoon also comes bundled with Lightbox Gallery and SVG Icons plugins.
Other Plugins
Lightbox Gallery started life as a simple Twig include I found myself using multiple times. It then morphed into a plugin when I wanted to be able to create a lightbox gallery of images directly in content with a shortcode. This plugin makes it really simple to display either a single or a gallery of images and have them zoomable into a full-size view and, optionally, provide a title and a rich-text description alongside each image. The Twig used to render the gallery is fully overridable by a theme, so it's easy to customize, especially when used with the Typhoon theme with its utility-first CSS styling.
Instagram doesn't make it easy anymore to display photos from your Instagram feed directly on your website. Instagram Feed plugin is a modern plugin that uses the latest Instagram Basic Display API and OAuth authentication to access your feed directly and securely. We built this plugin to adhere to Instagram's latest integration policies and provide a reliable way to display a feed on your Grav site.
We've developed some plugins, which, while useful, are just a bit too small to sell individually. The Site Toolbox is a product bundle that includes several plugins at launch, and we'll continue to add more over the coming months. Today this plugin contains the following:
SVG Icons - A simple plugin that includes 3 SVG icon sets: Tabler, HeroIcons, + Social icons. It also has a NextGen Editor compatible shortcode that means adding these SVG icons to your content is a simple as possible.
Warm Cache - A quick way to warm the cache for every page on your site. An invaluable way to ensure you users experience the fastest cached version of your site after the cache has been cleared.
Zapier RSS - One of the best ways to integrate content generated on your Grav site into Facebook, LinkedIn, or Twitter, is to leverage the power of Zapier to do the heavy lifting for you. Zapier RSS generates a Zapier-specific RSS feed of your content to make this process simpler, which is then used by Zapier to send your content to whatever service you wish. This enables you to auto-post your content to multiple social media services without even pushing a button!
Plugins Coming Soon
Providing downloads directly from your Grav site made EZ! EZ Downloads leverages Grav Pages functionality to power a sophisticated download system with some great features:
Hide download file URLs
Nested levels of downloads powered by Grav page structure
Restrict download pages to user access groups
Restrict specific files to user access groups
Hidden filenames to stop direct downloading
Tracking of the number of downloads
Thumbnail support
Version number support
Size display
Last modified display
Featured download tagging
Hot + New auto-tagging
Drag-n-drop orderable
A common task that we do while developing any site is to manually optimize images utilizing some of our favorite image compression platforms. While this does ensure the images we are serving are optimally compressed, it is a pain to do it for each image. Image Optimize plugin simplifies this process by locating all the images on our site and allowing you to compress them from a single location. From the admin interface, you can see each image and their original size, and then quickly compress them and see the % of the size reduction after processing.
Image Optimize supports a variety of compression platforms, so you can use what works best for your needs and budget. It also allows you to see before and after views of your images to ensure you are not compromising quality for filesize. It even allows you to roll-back a compression to the previous state if you are not satisfied.
Providing a quick and easy way to search content is an essential requirement for a lot of sites, especially a site that is focused on documentation or has lots of content. SimpleSearch is a fundamental solution that does a simple text-match on your content but is not built to scale. TNTSearch was our first attempt at a full-text search ending that utilized a search index. Agolia Search takes searching your Grav site to the next level by leveraging the leading-edge AI-powered search engine service. Algolia is used by over 10,000 businesses to power their search and there's nothing that beats the flexibility and speed, all at a reasonable price.
Algolia Search for Grav will integrate tightly with the Algolia Search service and be fully customizable to ensure you can search anything on your Grav site. It will be compatible with Grav pages out of the box but allow you to customize it for custom fields, as well as any 100% custom FlexObjects solution you dream up in the future.
Sum it all up...
I hope you are excited about Grav Premium as we are! This has been an enormous effort to get these plugins and themes built and working for Grav 1.6 and the upcoming release of Grav 1.7. We've also worked hard on documenting things, but we'll be continuing to add and improve those when people start asking questions that are not already answered. So consider the documentation a work-in-progress 😁.
We want the community to understand that every purchase of a Grav Premium product is going to directly enable the Grav Core team to focus more on developing, supporting, and improving Grav.
Also, Grav Premium is going to serve as test case for commercial themes and plugins for Grav in general. If this goes well, we fully intend on extending the capabilities to allow for 3rd party commercial products integrated into the Grav ecosystem in the future.