Cloudflare Manager
Integrate Cloudflare into your Grav site and manage your domain name server from the comfort of the Admin Panel. With Cloudflare Manager not only you can configure DNS records, SSL, Firewall, Caching, Network and optimize for Speed and Scrape Shield, you will also have quick access to your domain's Analytics.
Simple integration, only takes few minutes. Supports any Cloudflare Plan

Beautiful and intuitive interface with integrated documentation

Domain analytics with 24 hours, 7 days and 30 days lookup options

Quick actions interface for quickly enabling "I'm Under Attack!" or "Development Mode"

Even quicker action for purging cache, right from Admin's Quicktray

DNS records management allows inserting, updating, removing any A, CNAME, MX or TXT record type as well as Proxy through Cloudflare

Speed up your site by polishing images and auto-convert them to WebP. Additionally, auto-minify JS/CSS/HTML while enabling Brotli compression

Encrypt and secure your site by enabling SSL with a click and enforce HTTPS for all your visitors

Under attack? Adjust the Firewall's Security Level to "I'm Under Attack!" for mitigating high traffic

Adjust the Caching Level to your desired need and Purge Cache if needed

Enable "Always Online" mode to ensure your site remains online even when the server is not available

"Development Mode" support allows to bypass Cloudflare cache while you are focused on developing your Grav site

With "IP Geolocation", you can include the country code of your visitors right into the headers of every request

Take extra precaution by enabling "Email Obfuscation" and "Hotlink Protection"
DNS Manager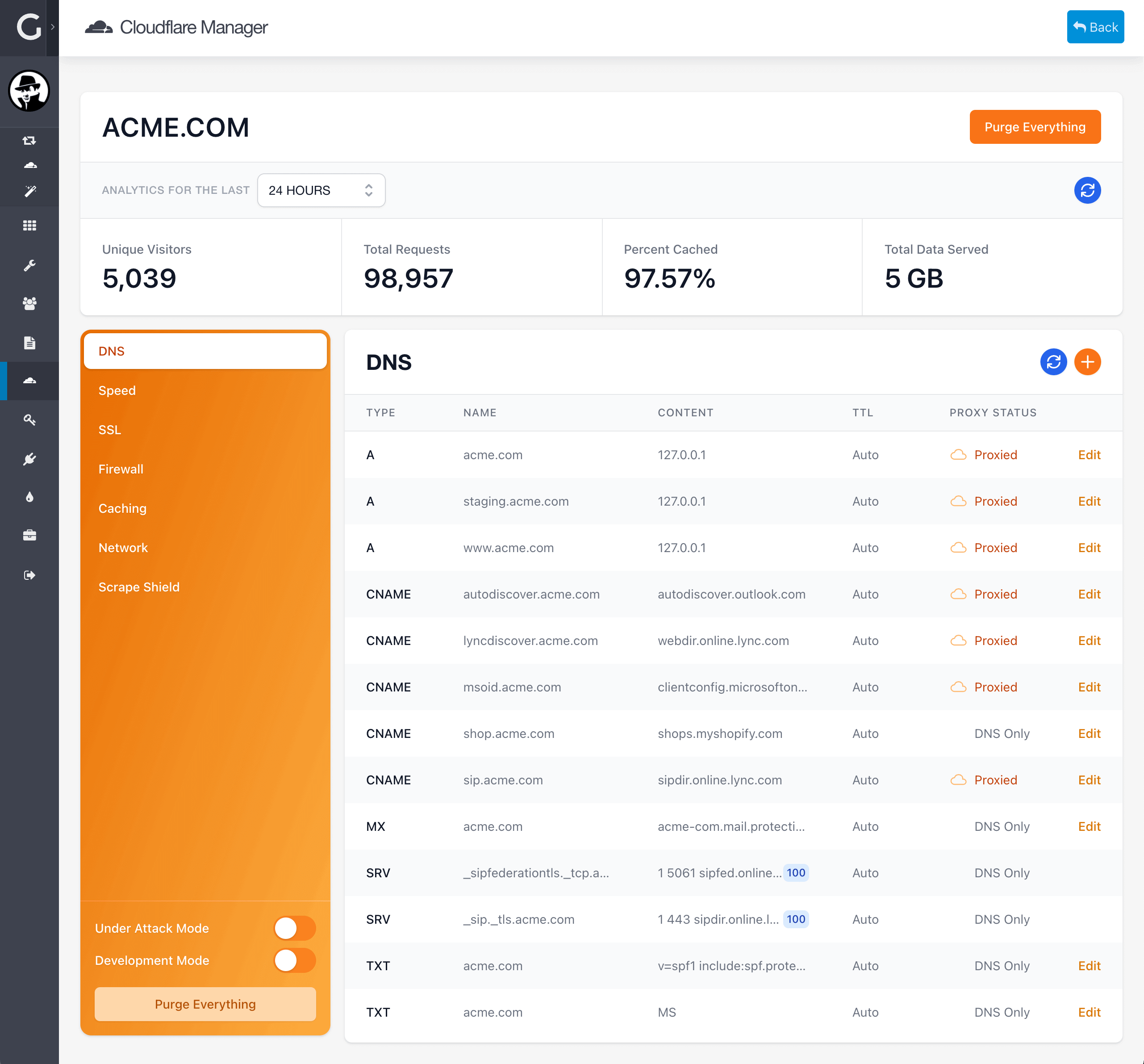 Analytics
Cloudflare Manager provides insight to your website traffic.
Know how many unique visitors and the total requests you had in the past 24 hours, 7 days or 30 days. Additionally, analytics will provide insight about the percentage of cached data served to your users and how much data has been served.
Quick Actions
Quickly access common features from the Quick Actions area.
If you are under attack (DDoS) or your site is under extremely heavy traffic, you can toggle "Under Attack Mode" to let Cloudflare mitigate the traffic for you.
If you are actively developing your Grav site, enabling "Development Mode" will help to retrieve lesser cached data, or alternatively just Purge Everything.
SSL
The simplest way to encrypt your website, with just a click. Choose between three type of SSL encryption offered by Cloudflare, or turn it off entirely (not advised!).
In no time your website will be encrypted and secure, your visitors will feel safer and SEO will reward your domain.
Quick Tray
To maintain optimal site performance, Cloudflare heavily caches your site.
There are times where an updated image, some styling or some content is just not wanting to show up and purging cache is the quickest solution.
Purging everything immediately clears all resources from your CDN cache in all Cloudflare data centers and you can quickly access the feature in Quicktray from anywhere on the Admin Panel.
Screenshots & Examples
Check out what Cloudflare Manager has to offer...
Frequently Asked Questions
The most commonly asked questions about Cloudflare Manager
Cloudflare is continuously improving its service and adding new ways to keep your site secure. With Cloudflare Manager we want to make sure we keep everything up to date and fresh. Some things we have planned for the future are:

Overview Panel with a summary of the domain, registrar, nameservers
Implementation of Graphs for the Analytics to better display the performance of your domain
Additional analytics data such as threats, traffic by countries, attacks blocked, etc
Support for Custom Purge per URL
Custom Dashboard Widget to include "I'm Under Attack!", "Developer Mode", "Purge Cache" and Analytics