Grav 1.0 Released
Rubber-stamped and all official!
posted on 12/11/2015
3 minutes

Grav 1.0 has been released! This major milestone in Grav's ongoing story and comes after a year and a half of open development, extensive user testing including over 51,000 downloads, and overwhelmingly positive feedback by our growing community.
Grav started out as a passion-project with the goal of creating a flat-file CMS that was open source, fast, and exceedingly simple. We wanted to create something that could be configured and optimized to meet virtually any situation from simple one-page sites to complex multi-language blogs.
During the past year, Grav has grown from a simple, small project to a leading choice for Web developers seeking a flat-file CMS. Its plugins library now features 85 free plugins that expand on Grav's core functionality, enabling it to do extraordinary things. Currently 40 free themes can be downloaded and installed in an instant, absolutely free!
And, Grav is just getting started...
Nominated for Best Free CMS Award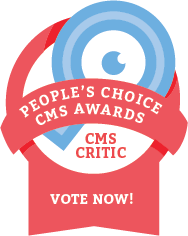 Grav has gained enough attention that it has been selected as a nominee for Best Free CMS in the Critic's Choice CMS Awards held by CMS Critic. We are joined in this category by the wildly popular October and Joomla!, the second most widely-used CMS on the Web today.
Don't put it off, please help us out and vote for Grav today!
A Growing User Community
Grav's development is driven by its community. Users can easily provide feedback and make suggestions, or even submit their own code through GitHub. This is one of the key aspects of Grav that makes it so unique. It isn't a product being created to fit the limited needs of a single person or company. It's a simple, yet highly versatile solution made to meet the needs of all of its users. However, this does not mean Grav is growing into a bloated platform, Grav will continue to focus on performance while balancing features and functionaliy, but still ensuring the core is as lean as possible.
As we mentioned in a blog post earlier this week, Grav passed an important milestone of 3,000 stars on GitHub, making it the #2 most popular PHP CMS on GitHub! This was a tremendous accomplishment, especially considering the GitHub community's reputation for selectively supporting the open source projects its members believe in the most.
The entire Grav development team has been actively communicating with the user community through Discord, a real-time web-based chat application accessible directly from the Grav website, and GitHub project pages. There, over 600 members can share feedback, ask questions, and connect with other Grav users.
Looking at the Future / What's Ahead?
With 1.0 out the door, our thoughts now turn to a long list of things we had put off for future releases. To give you an idea of some of those things, here is a sample of what we are looking at accomplishing in 1.1 and beyond:
Grav Core
Multi-site support in CLI commands
Multi-site support in Admin plugin
JSON API to enable 3rd party integration, apps, you name it!
Improve logic for modular pages to detect changes to twig/content
Various performance optimizations especially for larger sites
Add support for multiple language files in plugins (ie admin plugin has a huge languages.yaml file now)
Improve GPM to handle specific versions of plugins in dependencies and also skip if installed
More detailed examples of blueprint usage for custom admin forms
Development of a proper marketplace that allows for paid plugins and themes as well as free ones
Plugins
Support for custom configuration files/blueprints in Admin plugin
Move blueprints from Grav core to Admin plugin
Better handling of configuration overrides between environments in Admin plugin
Support for plugins to display in the Admin plugin dashboard
Add preliminary page versioning support in Admin plugin
Continue to work on Admin Pro plugin with goodies such as Media manager, User manager, Backup manager, etc.
Profile editing and password reset in the Login plugin
Develop a Forms Pro plugin that allows for GUI creation and editing for forms
If you have any ideas or suggestions for features and functionality, or even plugin improvments, please add them to the issue trackers on GitHub.